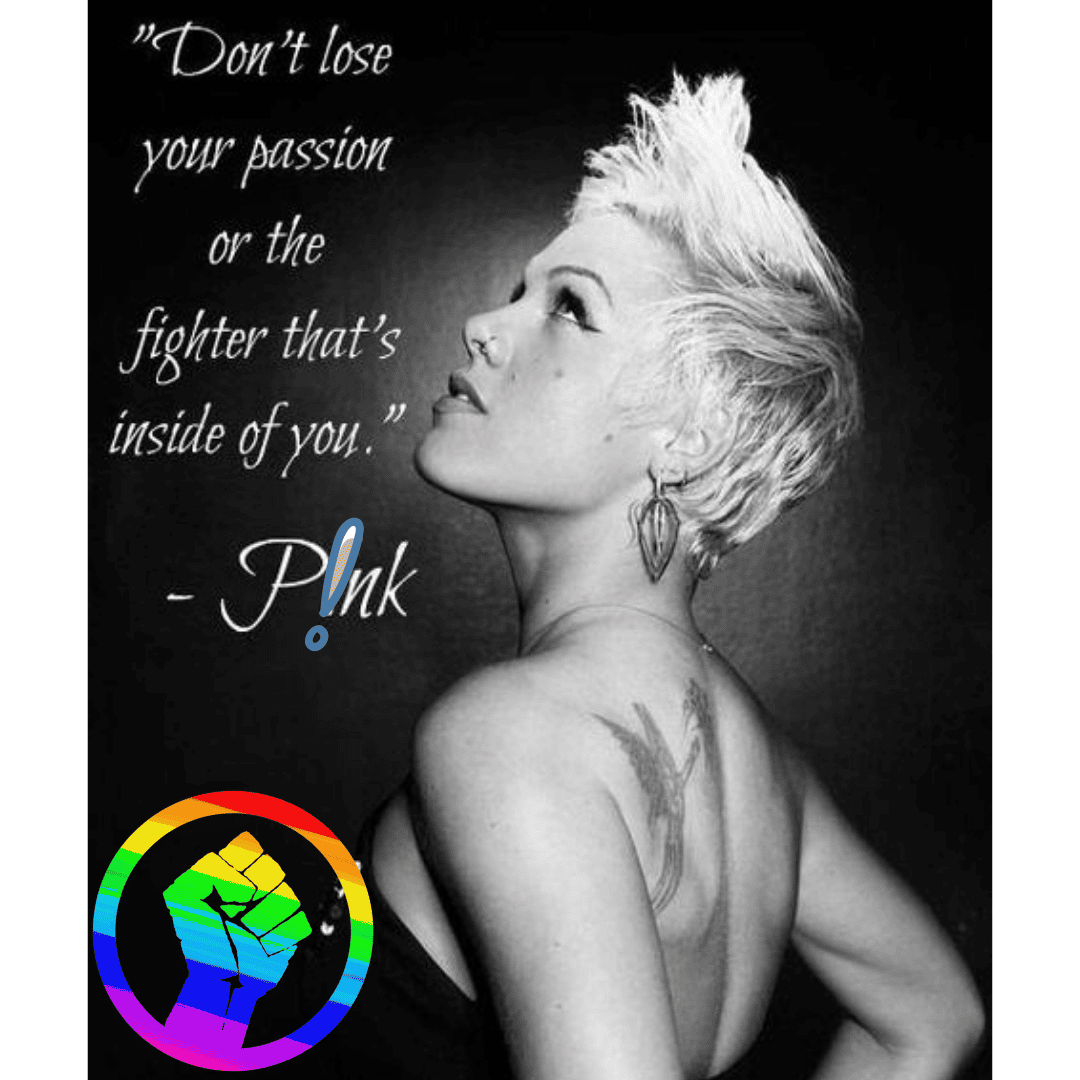 Pride
Pride
We Are Not Broken, Just Bent

By Michele Howey, Founding Member
I just watched the new Amazon documentary: Pink, All I Know So Far. I'm inspired by powerful women. Pink is one of my favorites.
I love that she isn't perfect and doesn't pretend to be. She is real and raw, open and vulnerable. I love that she has struggled and learned from it. I love that she has had problems in her relationship and they did the work on themselves and with each other. I love that she has fought for every inch she has taken and she doesn't apologize for taking up space. I love she is normalizing that it's okay not to always be okay. I love that she is body positive and inclusive.
I especially love that she puts her heart and soul into her art, and I love that her messages hit like lightening to the soul.
Life is super messy. My life hasn't been perfect, and has rarely followed a straight line. There have been a lot of zig zags. Painful lessons. Heartbreak, loss. Struggle. Joy.
Pink has a song called, "I am here." It really spoke to me on where I'm at right now. "I am here. I've already seen the bottom, so there's nothing to fear. I can think of a thousand places worse than this."
On a daily basis people suffer. We struggle. Sometimes, all we need is to be seen. To be heard. To matter to someone. Most of the time we are too focused on our own worries and troubles to stop and lift someone else. But it doesn't take that much. Sometimes all it takes is a kind word. A smile. Letting someone in traffic. Asking if someone is okay. Holding space for them. What if we could do more? Together. What if we tried?
One of my personal life philosophies is "everyone lift together." Maybe I can't lift it on my own. Maybe it's just too heavy. But maybe if we tried together, we can move it. This wall. This huge wall that we all keep dashing ourselves against called life.
That's why during National Pride month of June, we will be collecting "tips" (as donations) to support local LGBTQIA+ initiatives. 100 percent of all tips collected during this time will be matched to make a difference locally.
Because when we all lift together, we can all make a difference. We will match your generosity up to $1000.00. We will also keep looking for more ways to lift together and make a difference in our community.
To quote another of my favorite Pink songs, "You gotta get up and try."
So with all the pain and suffering in this world, right here, right now, in our corner of the world, I'm going to get up, and stand shoulder to shoulder with you and do something about it.
Happy Pride Month. We see you.